Alloy 26
Client:  Faros Properties
Location:  Pittsburgh, PA
Completion:  May 2016
Contract Value:  $616,997
FSS provided General Construction services for 32,700 SF of interior renovations for new business incubator offices and management offices. Alloy 26 is Pittsburgh's largest co-working space and accommodates more than 300 occupants.
The open concept space includes conference rooms complete with the latest technology, meeting areas, and private offices. A bench seating, tiered auditorium accommodates 200 people. The main work area is designed to feature raw materials and inner building workings of the existing space.
Scope of work included demolition and interior work for mechanical, electrical, plumbing, sprinkler systems and life safety. Construction of a kitchen and an on-site café and coffee shop were completed.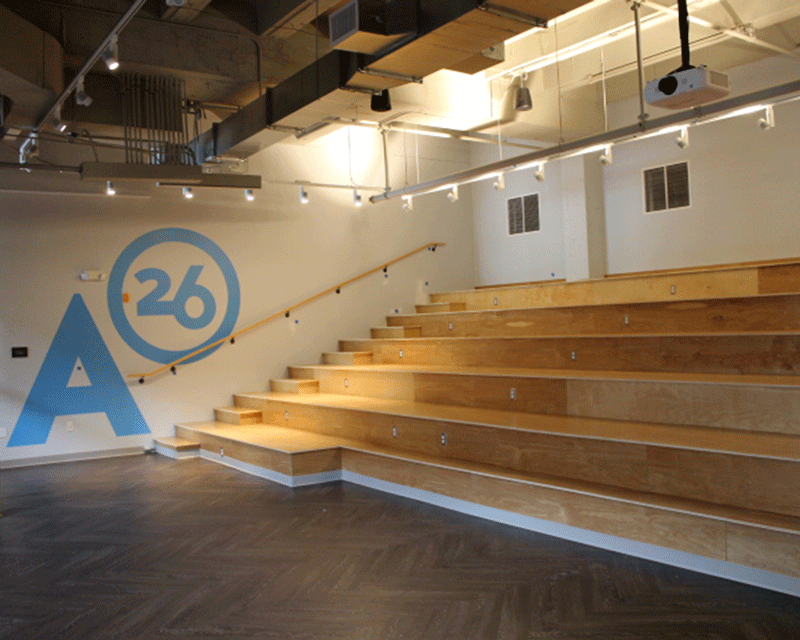 Revel + Roost
Client:    Millcraft Investments
Location:   Pittsburgh, PA
Completion Date:   March 2016
Contract Value:   $1,328,953
Revel + Roost tenant fit out is located in the heart of Downtown Pittsburgh in Market Square at Tower Two Sixty at the Gardens. Comprised of two floors, Roost hosts upscale dining on Level two, while Revel has an ultra-lounge atmosphere on Level one.
FSS provided general construction services for this complete tenant fit-out package of raw shell space. Scope of work includes mechanical, electrical, plumbing, sprinkler and life safety. This fast-tracked project was completed in March 2016.
NETL Building 1, 3rd Floor Renovation and Roof Replacement
Client:  National Energy Technology Lab
Location:  Morgantown, WV
Completion:  January 2014
Contract Value:  $4,111,593
This project entails the renovation of 3rd floor offices, replacement of four HVAC units and related equipment in the clerestory and replacement of the 4-ply built-up roof with a "cool roof," which reflects more sunlight and absorbs less heat than a standard roof.
The third floor work included reconfiguration of existing furniture system, construction of private offices, demolition of existing finishes and installation of new finishes, and demolition and installation of mechanical, plumbing, fire protection and electrical systems all on the third floor.
The roof replacement included removal of existing roofing and all associated components and supplemental framing. Four existing HVAC units were replaced and an access door was installed in the penthouse.
This project was completed on a government campus and work was performed in occupied building during business hours with no service disruptions.
NETL Day Care Center
Location:  Morgantown, WV
Client:   Department of Energy
Contract Value: $5,387,253
FSS was the General Contractor for the new construction of a daycare center that included an interior fit-out with play and activity centers for toddlers, preschoolers and an early childhood development center for infants. The project was completed on an expedited schedule. Two playgrounds were constructed, which included site preparation, installation of playground surfaces and installation of playground equipment to NPSI safety standards. 
This project is registered with the USGBC and was awarded LEED Gold but was designed to a LEED Platinum Rating and contains many energy-efficient features: 
Rooftop solar photovoltaic array to create a 15 percent reduction in electricity demand 

Solar light tubes–a series of roof domes—to capture daylight and convey it through reflective tubes into the classroom below 

Geothermal heat pumps to provide the main source of heating and cooling for the center that will also transfer heat via a radiant floor heating system during the cold months. 

Rainwater harvesting system for non-drinking uses

Wind turbine 
Hill Building Renovations
Client:  University of Pittsburgh Medical Center
Location:  Pittsburgh, PA
Completion Date:  August 2019
Contract Value:  $2,033,255
FSS provided General Construction Services for the 3rd floor of UPMC's Hill Building on Fifth Avenue.
The Hill Building renovation relocated Research Administration Offices. The new space included administrative offices, conference room and kitchenette.
Millies's Ice Cream
Client:  Millie's Ice Cream
Location:   Pittsburgh, PA
Completion Date:  July 2017
Contract Value:  $181,450
FSS provided general construction services for the single floor 692 SF tenant fit-out package of Millie's Ice Cream located in downtown Pittsburgh. Scope of work was completed in a cost efficient and timely manner despite the logistical complications associated with downtown Pittsburgh.
Project highlights included:
• Stainless steel casework
• Quartz and butcher block sterile countertops
• New lighting packages
• Polished and sealed concrete floors
• Detailed painting package
• Elaborate storefront with illuminated signage
• Complete refrigeration systems